Details

Published: July 21, 2016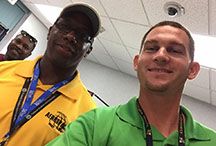 Giving back to local communities and having a positive impact on others are characteristics on which PASS members have always prided themselves. Last week, Florida PASS members Anthony Finklea and Doug Lowe took it upon themselves to help coordinate and participate in the Organization of Black Aerospace Professionals (OBAP) Aviation Career Education (ACE) Camp in Orlando. OBAP's ACE Academy, which is endorsed by the FAA, provides middle and high school students opportunities to learn more about careers in aviation.
Spanning the course of a week, the ACE Camp provided local high school students as well as students from Florida A&M University the opportunity to get a better understanding about various aviation careers. At the camp, students were exposed to different aspects of aerospace, including more hands-on approaches that allowed them to get behind the controls of an aircraft, examine the inner workings of a jet engine, and a chance to interact with aviation professionals and specialists from all over the state.
"I had an absolute blast working with the kids and sharing my knowledge about the vast amount of aviation career options available to them," said Lowe. With Lowe coming out of the Orlando System Support Center (SSC) and Finklea out of the Tampa SSC, the duo teamed up with OBAP ACE Director Gary Commock for a joint endeavor to explain the importance and diversity of aviation careers to students.
The week itself was jam-packed full of activities for students, from visiting the Fire Rescue at Orlando International Airport (MCO) to traveling to a Jet Blue training and flight simulator facility. The highlight of the week included a visit to a local FAA facility where Sen. Bill Nelson's Central Florida director spoke with students and emphasized PASS's successful collaborative effort to avoid privatization of the nation's air traffic control system. The week concluded with a farewell ceremony held at MCO with military aircraft on static display provided by the Navy.
At the end of the week, it was clear to Finklea and Lowe that the ACE Camp had given participating students a chance to learn more about aviation and meet new friends with similar interests, providing exposure to the history of aviation, fundamentals of air traffic control procedures and much more. "We couldn't have been happier to be a part of the whole experience," said Lowe. "It's important to give back to the community. We left the camp feeling like we really connected with the students and made a difference."
For more information about OBAP and its programs, please visit the OBAP website.
Pictured: Anthony Finklea and Doug Lowe at the OBAP event.